Roth IRA Rules
What are the Roth IRA rules?
That's a great question, because...
Before you open a Roth IRA, you need to know the basics.
Remember, ignorance is NOT bliss.
What you don't know can hurt you.
And when it comes to your Roth IRA, hurt usually manifests itself in the form of taxes and penalties.
So learn the rules!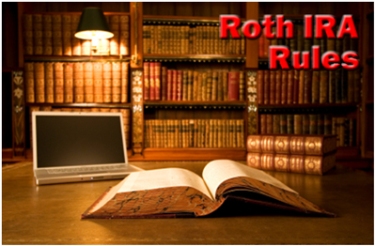 So what are the basic rules?
Fortunately, the IRS keeps the Roth IRA rules pretty simple.
The basic rules cover the following topics:
Eligibility
Income
Funding
Contributions
Withdrawals
Age
The 5 Year Rule
Investment Options
Rollovers / Conversions
Learn what the IRS says about the Roth IRA rules for each of these topics, and you'll know just about everything you ever need to know about the rules governing your Roth IRA.
What are the Roth IRA eligibility rules?
In essence, only two eligibility requirements exist, and they both involve income.
First, you must have earned income before you can contribute to your Roth IRA.
What is earned income?
According to the IRS, eligible compensation includes:
"Wages, salaries, tips, professional fees, bonuses, and other amounts received for providing personal services. It also includes commissions, self-employment income, nontaxable combat pay, and taxable alimony and separate maintenance payments."
Earned income does NOT include:
Earnings and profits from property
Interest and dividend income
Pension or annuity income
Deferred compensation
Income from certain partnerships
Foreign income
Any amounts you exclude from income
Once you have earned income, you're eligible to make a Roth IRA contribution assuming you're in compliance with the Roth IRA rules regarding your income level.
Depending on your tax filing status, you may be ineligible to contribute if your income is above a specified level.
For instance, to make the maximum annual contribution, your income must be less than:
$169,000 if you're married filing jointly
$107,000 if you're single or head of household
But the Roth IRA income rules will be addressed in greater detail momentarily.
Roth IRA rules limit your eligibility to open a new Roth IRA or contribute to an existing one based on where your income falls within a predetermined range.
So what's your income?
Your "income" in the eyes of the IRS is the same as your Modified Adjusted Gross Income (MAGI).
So that begs the question... what in the world is Modified Adjusted Gross Income?
It's nothing more than government bureaucrat language which means "your personal income."
Look at your IRS Form 1040 (the one you use for filing income taxes). Find the number for Adjusted Gross Income (AGI).
Once you add back certain items to your AGI, you'll come up with a figure for your MAGI. Then you'll be able to see if you meet the income limits for a Roth IRA.
Click here to learn more about Modified Adjusted Gross Income (MAGI) and how to calculate it.
Anyway, once you figure that out, the Modified Adjusted Gross Income (MAGI) limits for a Roth IRA are as follows:
$179,000 for married individuals who file a joint tax return.
$10,000 for married individuals who file a separate tax return and lived with their spouse at any time during the course of the tax year.
$122,000 for individuals who file as:
Single
Head of household
Married filing separately and did not live with their spouse at any time during the course of the tax year.
One of the first Roth IRA rules you'll learn is that you must fund your contributions with after-tax income.
Unlike a traditional IRA, a Roth IRA is NOT tax deductible.
However, this disadvantage is easily offset by the future tax-free growth and tax-free withdrawal of those same contributions.
That's right...
Once you fund a Roth IRA, you never have to pay income taxes or capital gains taxes on the invested funds or subsequent investment gains ever again!
For example, let's say you fund your Roth IRA with $1,000 in after-tax income. You use that money to purchase $1,000 worth of stock. After three years, the stock is worth $2,000.
You sell it.
But instead of paying capital gains tax on the $1,000 gain, you pay zero tax. You can then reinvest the entire $2,000 in something new.
Thirty years later, when the $1,000 is worth $15,000, you can withdraw the entire $15,000 and not owe a single penny in taxes!
Roth IRA rules limit the annual contribution you can make to your account.
As of 2011, you can make an annual contribution of...
$5,000 if you're under the age of 50 and don't exceed the income limits
$6,000 if you're over the age of 50 and don't exceed the income limits
A dollar amount which varies somewhere inbetween as you approach the upper income limit
Zero dollars if your income exceeds the upper income limit
Unlike a traditional IRA, you can withdraw previously contributed principal payments from a Roth IRA without incurring an early withdrawal penalty.
For example, let's say you open a Roth IRA and contribute $2,000.
One year later, the account is worth $2,500.
Under the Roth IRA distribution rules, you can withdraw up to $2,000 without incurring a penalty...
But the $500 investment gain can't be touched.
Withdrawals of investment gains are a different story, though.
In order to withdraw investment gains without penalty, you generally need to meet two requirements:
1) The funds have been in the account at least 5 years
2) You've reached the age of 59 ½
However, there are exceptions to these rules.
They allow you to make early withdrawals without paying a penalty if your withdrawals are for certain things, such as funding education expenses or the purchase of a first home.
But let's take a more in-depth look at the two requirements you must meet - the Roth IRA 5 year rule and age 59 ½.
Before you can make tax-free, penalty-free withdrawals of investment gains, rollover funds, or conversion funds from your Roth IRA, you must meet the requirements of the 5 year rule.
So what's the 5 year rule?
It's one of the most important Roth IRA rules, and it states that you must open and fund your account for at least 5 tax years before you can withdraw funds (other than your original contributions) tax-free and penalty-free.
The five year clock starts ticking in the same tax year in which you make your first contribution.
So if you open a Roth IRA and make an initial $5,000 contribution for the 2012 tax year, then you'll meet the requirements of the five year rule in 2017.
Why?
Because five tax years have passed.
2012, 2013, 2014, 2015, and 2016.
Roth IRA rules don't dictate a minimum or a maximum age for opening or investing in a Roth IRA.
However, the IRS does require the Roth IRA account holder to fund the account with earned income.
So, if you're a five-year-old with earned income from a lemonade stand...
Or a ninety-two-year-old with earned income as the local Wal-Mart greater...
Then you meet the age requirements to open and contribute to a Roth IRA!
In short, there is no Roth IRA age requirement, just an earned income requirement.
As a general rule, you can fund your Roth IRA with any combination of the following investment vehicles...
Common Stocks
Bonds
Mutual Funds
Certificates of Deposit (CDs)
Exchange Traded Funds (ETFs)
Money Market Accounts
Savings Accounts
Treasury Inflation Protected Securities (TIPs)
Real Estate Investment Trusts (REITs)
Platinum, Gold, and Silver Coins
While the range of asset classes is wide and varying, not every traditional investment option is available for your Roth IRA.
A few investments you can NOT fund your Roth IRA with include...
Collectibles (Priceless art, classic autos, antiques, stamps, etc.)
Cash Value Life Insurance
The Roth IRA rules also dictate the parameters for converting your 401k, Traditional IRA, or other tax-sheltered retirement plan to a Roth IRA.
Under the rules, you can roll over all (or part) of a qualified withdrawal from your (or your deceased spouse's):
401k
Traditional IRA
SEP IRA
SIMPLE IRA
403b
457 plan
Employer qualified pension
Profit-sharing plan
Stock bonus plan, or
Annuity plan
Of course, you owe income taxes on investment gains and/or any pre-tax contributions you made to those plans prior to the rollover.
Make sure you know the Roth IRA IRS rules before you jump head first into Roth IRA investing.
Make sure you fully understand the rules in regard to:
Eligibility
Income
Contributions
Withdrawals
Rollovers / Conversions
If you have a question about the rules, and you can't find the answer, use the "Search This Site" field in the upper lefthand corner.
Our site is adding new information and resources on a regular basis, so you should be able to find the answer to your Roth IRA questions here.
Return to the top of Roth IRA Rules
Return to the Your Roth IRA Website Homepage