Your Roth IRA Interviews
Welcome to the Your Roth IRA Interviews section, where we feature interviews with experts in the world of finance.
We're always eager to learn as much as we can from as many people as possible. The more we learn about personal finance, the better equipped we'll be to lay a solid financial foundation for our lives.
In that spirit, we created this "Interviews" section in the hope of gaining some great nuggets of wisdom from online personal finance experts who are ready and willing to share their expertise. We value their time, opinions, and dedication to the world of personal finance and financial planning.
So please check out the interviews below, and we highly recommend visiting the websites of all interview subjects.
Wealth Pilgrim: An Interview with Neal - We recently had the pleasure of interviewing Neal Frankle, author of the Wealth Pilgrim blog. Neal's blog packed with a lifetime of financial wisdom and excellent life advice, including workable investment strategies, marriage money advice, and retirement planning ideas. So make sure to check out our interview with Neal!
Cash Money Life: An Interview with Patrick - We recently had the pleasure of interviewing Patrick, author of the Cash Money Life and Military Finance Network blogs. Patrick's blog offers a unique perspective on personal financial matters, especially when it comes to personal finance for active members of the U.S. military. So make sure to check out our interview with Patrick!
Bible Money Matters: An Interview with Peter Anderson - We recently had the pleasure of interviewing Peter Anderson, author of the Bible Money Matters blog. Pete's blog offers a fresh biblical-based perspective on personal finance. He also offers some great tips for those interested in launching their own income-generating blog. So make sure to check out our interview with Pete!
Good Financial Cents: An Interview with Jeff Rose - We recently had the pleasure of interviewing Jeff Rose, author of the Good Financial Cents blog. A Certified Financial Planner professional, Jeff truly has one of the best websites when it comes to Roth IRA information. But he also tackles dozens of additional topics from 401k's to In-N-Out Burger. So make sure to check out our interview with Jeff!
From time to time, additional interviews will appear on this page. So make sure to drop by in the future for new and exciting interviews.
Return to Your Roth IRA Interviews
Return to the Your Roth IRA Website Homepage
---
What's New?
Read 5 Reasons Why I Love My Roth IRA, our part in the Good Financial Cents Roth IRA Movement!
Start planning ahead for next year by checking out 2017 Roth IRA contribution limits, and stay alert to this year's changes to the 2016 Roth IRA contribution limits.
Our family fully funds our Roth IRA with this website. Learn how you can do it too.
Are you confused or frustrated by the stock market? Learn how to build real wealth selecting individual stocks for your Roth IRA...
Read more about what's new on the Roth IRA blog.
---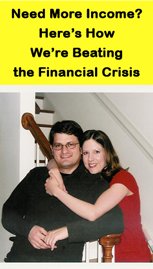 Hi, I'm Britt, and this is my wife, Jen. Welcome to our Roth IRA information website!
This is our humble attempt to turn a passion for personal finance into the Web's #1 resource for Roth IRA information. But, believe it or not, this site is more than just a hobby. It's a real business that provides a stable and steady stream of income for our family. In fact, because of this site, Jen is able to be a full-time stay-at-home mom and spend more time with our daughter, Samantha.
But you want to know the best part? ...You can do the same thing! Anyone with a hobby or a passion (even with no previous experience building a website) can create a profitable site that generates extra income.
If you're tired of solely depending on your job(s) for family income, click here now and learn why our income is increasing despite the financial crisis and how we're making our dreams come true.
---
Search This Site
Roth IRA Basics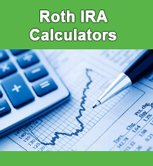 More About Roth IRAs
Roth IRA Resources
About Your Roth IRA
---
Like Us On Facebook
---
Follow Us On Twitter
---
RSS
[?] Subscribe To
This Site
---
Disclaimer
The information contained in Your Roth IRA is for general information purposes only and does not constitute professional financial advice. Please contact an independent financial professional when seeking advice regarding your specific financial situation.
For more information, please consult our full Disclaimer Policy as well as our Privacy Policy.
---
---
Thank You
Our family started this site as a labor of love in February 2009, a few months after our daughter was born.
Thank you for helping it become one of the most visited Roth IRA information sites.
Thank you, too, to the "SBI!" software that made it all possible.
We hope you find what you're looking for and wish you much continued success in your retirement planning!