Our Site Build It Success Story
Thanks to the Your Roth IRA website, my wife and I are funding our retirement future while living out our dreams in the present.
With virtually zero knowledge of computer programming, we turned our passion for financial planning into this website, a real income-generating business which has transformed our lives forever.
But we're not alone, nor should we be. You can do it too!
All you need is a passion, a hobby, or a strong interest, and you can transform it into an online business. And thanks to a unique platform called Site Build It! (SBI), you can do so without any previous internet marketing or technical knowledge.
What SBI Did For Us
The birth of our daughter Samantha sparked our Roth IRA research efforts. We wanted to provide for her future needs by planning ahead, but we also needed to provide for her present needs in the meantime. And in the present, money was tight...
Less than three months after Samantha's birth, my wife Jen had to go back to work. The budget had already been cut to the bare bones, and our dream of Jen staying home with Samantha was financially impossible. Fortunately, our parents were able and willing to care for her during the day, but still, it broke our hearts to see someone else raising our baby - even if it was our own parents.
Someone else would see her first steps... Someone else would hear her first words...
To compound the problem, Jen got transferred to the very elementary school where we once considered sending Samantha. Once she was there, we realized the conditions were less than ideal, and we agreed that we could never send her to that school, or probably any public school in our area.
Samantha's future education had to take place either through home schooling or private schooling.
And, of course, that created a new problem. After all, private school tuition is expensive, isn't it?
Nevertheless, we decided our daughter was worth it. She deserved the best we could give her. And that meant:
Jen quitting her job to become a full-time work-at-home mom
Our family earning enough extra income to afford private school tuition
Our family fully funding Samantha's college savings
The two of us fully funding our own retirement so as not to be a burden in our old age
All four of these goals required money. Big money. And we weren't exactly rolling in extra cash, even with both of us working full-time. So how could we possibly achieve these goals with only one income?
It seemed impossible. Nevertheless, on January 9, 2009 - less than four months after Samantha was born, we resolved to achieve each and every one of our goals.
It took about two weeks, but after some in-depth Internet research, we found a solution which would change our lives forever.
It was called Site Built It! (SBI).
What Is Site Build It! (SBI)?
Site Build It! teaches, in 10 simple step-by-step lessons, all the essential building blocks for creating a profitable, income-generating website based on your personal interest or hobby. In a nutshell, SBI teaches you how to:
Research your most profitable interest
Choose the best domain
Design your own site using a point-and-click template
Generate loads of free search engine traffic
Turn that traffic into a steady stream of income
The proven SBI process has already worked for thousands of Internet entrepreneurs - people just like you and me. They generate hundreds and, in some cases, thousands of dollars on a monthly basis from their SBI websites.
So who does SBI work for?
Anyone looking to make extra income on the Internet - regardless of age, education, or IT experience. SBI is the complete guide to building a profitable online business with zero technical skills - so just about anyone can do it.
After all, our story is the perfect illustration.
Our SBI Journey Begins
Prior to discovering Site Build It! (SBI), my wife and I decided our best option was to build an online business centered on something we knew well... our Roth IRA. After Samantha's birth, our Roth IRA research on the Internet turned up a lot less information than we anticipated, and it seemed like a golden opportunity existed for a niche website to fill that void.
We had previously dabbled with WordPress and other web tools with little financial success. How would our new endeavor be any different? With so much on the line, failure was simply not an option. We needed to find a plan that could guarantee our success if we stayed disciplined enough to carry it out.
That's when we stumbled upon Site Build It!.
SBI offered a platform for building an online business perfectly tailored to our needs. Not only did it offer an all-in-one solution for building a viable online business, it did so at low cost. We researched and researched SBI for several days to find out whether or not it was for real. After all, it seemed too good to be true.
With all the "get rich quick schemes" on the web, SBI sounded like just another scam.
But our research confirmed otherwise...
We read the free online book Make Your Content PREsell!, and suddenly, writing for the web made sense.
We also read about The C-T-P-M Process which laid out the path for building an online business in a clear and concise manner.
And finally, we read the SBI Action Guide, an easy-to-follow 10 step guide for building an online business at your own pace.
All of these materials proved quite convincing, but in the end, results are what really matter.
Could we find examples of normal, real-life people achieving success with SBI?
Absolutely.
And for our family, that was the clincher.
Examples of people succeeding with SBI were abundant (just do a quick Google search of the topic, that's what we did). In fact, 35% of SBI sites are ranked in the Top 1% of all websites in terms of traffic! That's success you simply can't argue with.
In addition, the Case Study Websites offered undeniable evidence of what's achievable with SBI, and the Alexa rankings of the SBI websites we investigated offered verifiable hard proof evidence of success.
Our conclusion?
SBI is real, and it works.
Don't believe me?
Well... You're here, aren't you? How'd you find our site?
You found us because the SBI process works.
Fortunately for us, our own research confirmed it works. And armed with that knowledge, our family took the plunge.
Your Roth IRA Is Born
On February 7, 2009, we signed up for Site Build It! and began our online business adventure.
Just a few months later, we had a bona fide online business generating extra income - a business that's grown in terms of traffic and income every month since its inception.
But don't be fooled.
While the process is simple, creating an online business is NOT easy. It takes a lot of discipline, motivation, and effort.
But what's so great is you control all of those things that make SBI work. In other words, you get out of your SBI experience exactly what you put into it.
For five months, we diligently invested our spare moments building valuable content and inbound links for the Your Roth IRA website. We read all the SBI materials, and carefully followed the SBI Action Guide. While traffic grew during that time, it was very modest. But we continued to work - building more and more valuable, informative content and acquiring more and more inbound links.
Then, in July 2009, our little drizzle of search engine traffic turned into a steady trickle. Earnings from the site also went from a drizzle to a trickle... We were on our way!
By the time September rolled around, we achieved the first of our goals.
Jen resigned from her job and became a full-time stay-at-home mom!
As the year drew to a close, our traffic and earnings continued to increase. So much so that today we can afford to send Samantha to private school if we wanted! (Although, she's too young to go.)
So does SBI work?
You bet it does!
In the course of one year, our family went from an overworked unsustainable existence to achieving our dreams and taking total control of our financial future. SBI works, and if it works for us, it can work for you too.
[September 2011 Update]
Recently, Samantha started pre-school.
Because of SBI!, we had the ability to pay her entire tuition bill upfront, and we have now achieved all four of our original goals!
[April 2012 Update]
It's been 39 months since we launched our site, and traffic has never been higher. We now have over 4,000 visitors per day and growing!

We've already paid all of Samantha's tuition for upcoming Pre-K 4 school year, and we're earning more from the site than I earn at my 9-to-5 job!
A Bright Future
In the months and years ahead, our family is poised to achieve better and better financial results because of SBI.
So you might be asking yourself... How does it work?
Your Roth IRA is what some might call an infopreneur site, which means free information is our key product.
As people come to our site in search of answers to their Roth IRA questions, a good number of them click on the site's advertisements - generating income for our family. Other visitors might follow affiliate links to products mentioned on the site - once again generating income for our family.
This type of business model allows us to serve our customers without having to worry about inventory, ordering, order fulfillment, customer support, or other time consuming traditional business functions which would otherwise eat up our precious time.
Instead, we focus on building valuable content which serves as many people as possible. With the leverage of SBI, we get tons of free traffic from the search engines, and that traffic quickly converts into leads for a diverse array of advertisers.
Perhaps in the future, we'll branch out into e-books, creating an additional revenue stream. But for right now, the status quo works well for us. Our income-generating website is on autopilot, allowing us to focus on more of what we do best...
Create excellent content which provides people with up-to-date and accurate Roth IRA information.
Still don't understand the SBI concept?
Site Build It! founder Ken Evoy explains it much better than we can in the video below.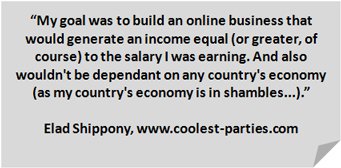 Got A Second?
Check out this quick 2-minute SBI intro which explains the process for online small business success...
Start Your Own Dream Today
What do you want out of business and life?
Additional family income and time?
Freedom and self-reliance?
Growth and independence?
Enjoyment of your work?
Being your own boss?
Increased revenues from an existing business?
Control over your own life?
Jen and I encourage anyone who wants more out of business and life to use the Internet as an avenue for turning a personal passion into an extra income stream. After all, what could be more fun than making money doing something you enjoy?
Imagine the possibilities at your fingertips if only you take the time learn more about Site Build It! and the 10 day SBI Action Guide. Like it did for us, SBI can help you achieve your life dreams. So start your own dream today!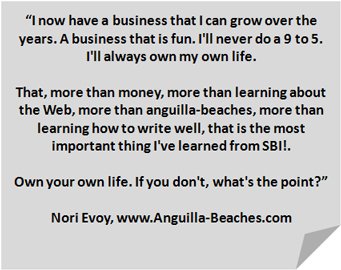 Why are you still reading at this point? Go get started on your own dream today! And before you do, remember this quote...
"Nothing happens until something moves."
- Albert Einstein
That Einstein guy really knew his stuff. So get moving right now and make your Site Build It! dream a reality.

Return to the top of My Site Build It Success Story
Return to the Your Roth IRA Website Homepage