The Basic Principle of Investor Return
By now, you've learned how to make a Stock Watch List, why you should ask countless questions about your company's future business prospects, and what qualities are most desirable in a company.
***z-affiliate-ad-1.shtml***
As a result, you've uncovered a potential diamond in the rough. A company with...
A strong competitive advantage
Consistent and increasing earnings
Consistent and high returns on equity
A low debt to equity ratio
Consistently high free cash flow
Consistent and increasing dividend payouts
At this point, you've hit the jackpot. Right?
You've found your great company. So that's it...
Isn't it?
Nope.
Unfortunately, successful investing requires you purchase great companies at great prices.
You can't just buy great companies.
If it were that easy, great investors would be all over the place...
Now's the time to focus on buying your great company for a great price - something 95% of investors never bother to do.
Nevertheless, the price you pay has a significant impact on the performance of your investment portfolio.
Next to the company you're buying, it's the single most influential factor in the future performance of your investment.
Did you catch that?
The single most influential factor...
So ignore price at your own peril...!
However, take a moment to read the next two web pages, and you'll gain valuable investment knowledge that will put you light years ahead of the 95%.
Buy Low, Not High
You've heard the old stock market adage...
Buy low, sell high.
Almost everyone agrees this is the key to stock market success.
Yet 95% of investors ignore this common sense advice, even while they preach it.
Instead, they buy a stock, and then they hope and pray it will rise in price.
Sometimes, they actually make a well-reasoned business perspective decision, buying a stock because they believe the company is great.
But that's not enough...
Such a decision still results in lackluster investment returns.
Why?
Simple.
95% of investors completely ignore the Basic Principle of Investor Return.
They ignore the price they pay, choosing to believe that a stock will rise in price because "it's a great company" or "it's got a lot of upside potential."
Consistently successful investors never do this.
They lock in superior investment returns the moment they purchase.
How?
By understanding and applying the basic principle of investor return.
They actually know the true value of the company they're purchasing and...
They only buy low!
The Key to Investing Success: Buy Low
To underscore the importance of this concept, let's use the following example...
The chart below features earnings for Company A & Company B over the past ten years. Study it closely...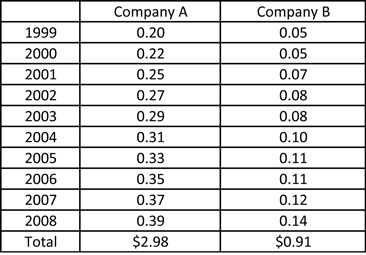 Which one should you buy?
Think about it...
Did you come up with an answer?
Obviously, Company A is the superior investment because the earnings are higher. Right?
Nope.
Then it's Company B, because the earnings are growing faster?
Wrong again.
Although Company A's earnings indicate it might be a better company, you don't have enough information to determine which company is the better investment.
To determine which company is the better investment, you need at least one more piece of information...
At what price?
Until you factor in the price you pay for each company's earnings, it's impossible to determine which company is the better investment...
The Price You Pay Matters
In a nutshell, that's the basic principle of investor return.
Simply put, it states...
The price you pay determines your rate of return.
Remember that.
Write it down and videotape it.
If you only remember one thing from this entire website, that's what you should remember.
I'll repeat.
The price you pay determines your rate of return.
It doesn't matter how great or bad your company is. If you overpay for it, your investment returns are certain to disappoint you.
To illustrate, think about this...
Nike (NKE) is a great company. Right?
It's one of the most recognized brands in the world. It has zero debt, massive free cash flow, high returns on equity, strong and consistent earnings, etc.
Nike has a track record of more than 40 years of resounding business success, and the future looks even better...
But is it worth $100 trillion dollars today?
Probably not.
Okay, let's flip that question...
Is it worth more than a $1 today?
Probably so.
Well then, what's it worth?
The answer is somewhere between $1 and $100 trillion dollars...
Once you identify Nike's actual value, your rate of return is determined by the difference between the price you actually pay and the company's actual value.
How Much Is It Worth?
To illustrate, let's take a second look at our two hypothetical companies.
Company A and Company B...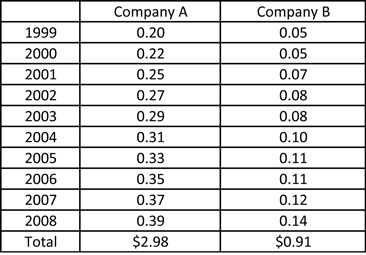 Now, let's add one more piece of information...
Company A sells for $20.
Company B sells for $5.
Does that give you a better idea of what to buy?
While Company A has higher earnings relative to Company B, it's not the better investment in this case.
Why?
Because the price of Company A relative to Company B negates its earnings advantage.
The Price You Pay Determines Your Rate of Return
You can always overpay, even for a great company.
It's one of the most common mistakes investors make.
The key is to pay a reasonable or dirt cheap price for a great company.
After all, that would be buying a great company at a great price!
And if you do that, you'll become wealthy.
Sounds great, right?
Only one problem...
How do know what a company is worth?
Great question.
And while it's not an exact science, you can find the answer.
You find it by calculating a company's intrinsic value...
Learn How to Calculate a Stock's Intrinsic Value >>>
***z-affiliate-ad-2.shtml***
Return to the top of The Basic Principle of Investor Return
Return to Trading Stocks In A Roth IRA
Return to the Your Roth IRA Website Homepage