The Dividend Payout Ratio
Now that you've learned the importance of dividends, you'll never again invest in a non-dividend paying stock...
***z-affiliate-ad-1.shtml***
Right?
Well, some rules are made to be broken...
A great business doesn't need to pay a quarterly dividend to be a great investment, but it does need the ability to pay a quarterly dividend.
Some companies are still in a high growth stage of development. Typically, companies still in a high growth stage of development retain most of, if not all, of their earnings in order to feed the growth of the business.
Logically, you expect the company to pay dividends once its high growth stage reaches maturity. In the meantime, you're participating in the company's initial growth surge, so you're happy receiving no dividends now so you can receive more in the future.
After all, if a company is earning excellent returns on equity, you don't want it pay a dividend. You want the company to retain as much of its earnings as possible and reinvest those earnings in the company at a much higher rate than you can.
Let me use a personal example...
In October 2008, the stock market took a nosedive. The once high-flying stock of Hansen Natural Corporation (HANS) plunged right along with the market, falling from a 52-week high of $67.86 down into the low $20 range.
As a fan of Hansen's business, this naturally attracted my interest...
While the company doesn't pay a quarterly dividend, there's much to like about Hansen Natural. As maker of the popular Monster energy drink line, it enjoys a high level of brand awareness and market share in a high growth industry.
The company's business operations are easy to understand. Earnings have been consistent and increasing for several years. The company has zero debt. And the company's return on equity averaged over 50% in the previous 5-year period!
While I don't expect return on equity to remain that high, I do expect it to be in the 25%-30% range in the upcoming decade as the company expands its distribution network and implements more cost efficient processes into its operations.
After its high growth period ends, maybe Hansen Natural will start paying a handsome quarterly dividend. If not, I'll still have a partial ownership interest in a great business worth far in excess of what I originally paid...
But when it comes to dividends, Hansen Natural is the exception not the rule.
Since 2001, I've only recommended three non-dividend paying stocks. All of them are excellent businesses that at one time or another traded at great prices - Hansen Natural Corporation (HANS), Buffalo Wild Wings (BWLD), and Boston Beer Company (SAM).
Every once and a while, you'll encounter a business that's so great and selling for such a low price that you can't pass up the opportunity, even it doesn't pay dividends.
But for the most part, I prefer dividends...
Why?
First, dividends are a guaranteed way to put in cash in your pocket. You don't have to hope for a higher stock price in order to come out ahead. Instead, you can count on being ahead with dividends.
Second, if you reinvest your dividends, you build your wealth during market downturns by purchasing more shares of the great company you already own.
And third, but best of all, dividends typically increase over time. In some cases, substantially! And that can build your wealth faster than you can imagine...
The Power of Increasing Dividends
How can increasing dividends build phenomenal wealth?
By harnessing the power of compound interest...
Reinvested dividends magnify an investment's typical return by making use of the power of compound interest.
Need an example?
Let's look at a traditional savings vehicle which takes advantage of compound interest...
A savings account.
Let's say your savings account pays 2.0% annually on a $34 initial deposit (in a moment, you'll see why I chose $34 as an example). Here's what that looks like...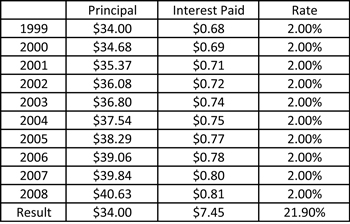 Now, imagine how much money you would've earned in year ten if the 2.0% rate also increased on an annual basis along with the principal balance...
You would have a lot more. Right?
Well, that's typically what happens when you invest in a great company with consistent and increasing dividend payouts.
Need an example?
Below is a chart of actual dividends paid by PepsiCo, Inc. from 1999 to 2008. $34 would have purchased 1 share of Pepsi (PEP) in 1999 (this is why I used $34 in the savings account example).
In this case, PepsiCo stock is the perfect illustration of the power of compounding dividend returns...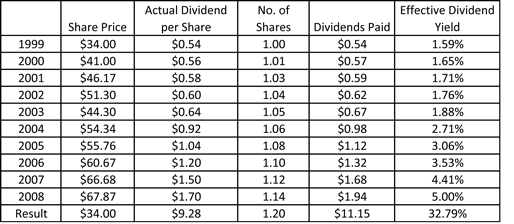 Notice the "dividends paid" figure in year ten?
Also notice the yield in year one is substantially less than the year one savings account rate in the previous example. But the 2% savings account rate doesn't change, while the dividend yield on the initial investment in PepsiCo stock more than triples. By year six, it eclipses the yield on the savings account and keeps growing and growing.
From 1999 to 2008, the effective dividend yield for PepsiCo stock increased on an annualized basis of 13.57%...! That means, on average, your dividend yield just about doubles every five years. Now, imagine if you continue to hold your PepsiCo stock for another ten years while the dividend payments increase and increase and increase...
In the initial years, you do better with a savings account. But in the long term, you do far, far better with a great company's dividends.
That's the power of compound interest, and you can harness and amplify that power by investing in great companies with a history of consistent and increasing dividends.
So if you want to substantially increase your odds of beating the market and building a successful Roth IRA portfolio, find companies with a track record of increasing dividends...
How to Find Out If a Company Has a History of Increasing Dividends
So, how do you know if your favorite company has a history of increasing its quarterly dividend payouts?
Offline, you can go back to your trusty reference guide - The Value Line Investment Survey. In the same chart which shows the company's earnings and return on equity over the past ten years, you also find its annual dividend payouts.
Online, you can perform a quick check by visiting Google Finance.
Just enter the company's ticker symbol and all the standard information will pop up along with a chart of the stock price.
Click on the '10yr' or 'Max' text links located at the top of the stock chart...
If the stock pays dividends, little blue arrow tags labeled with a 'D' will appear along the chart at intervals where the company paid a dividend.
Hover your mouse over the little blue arrow tags, and you'll notice a balloon pop up with the date of the dividend payment as well as the amount paid. Move your mouse from left to right, and you get a quick idea of whether or not the company's dividend payments are consistent and increasing.
And that's how you find a company's dividend track record. It's that simple...
What is the Dividend Payout Ratio?
The dividend payout ratio is nothing more than the percentage of earnings a company pays its shareholders in the form of dividends.
Here's what it officially looks like...
Dividends Paid / Earnings = The Dividend Payout Ratio
For example, suppose your business earns $1 per share. It pays a dividend of .50 per share.
.50 / 1.00 = 50%
So in this case, the dividend payout ratio is fifty percent...
How to Find a Company's Dividend Payout Ratio
Scroll to the bottom of your company's Google Finance page...
Look for the blue text link titled "More ratios from Thomson Reuters."
Click on that link...
Look for the second table of data titled "Dividends."
The last line features the dividend payout ratio for the company as well as Industry, Sector, and S&P 500 benchmarks for comparison.
Look For Low Dividend Payout Ratios
Look at your company's Dividend Payout Ratio...
Is it high or low?
A lower ratio means there's more room for the company to increase dividend payouts, while a higher ratio means there's less room.
Does that mean you should altogether avoid companies with higher ratios?
Absolutely not.
What it does mean is you should be aware of a company's chances of realistically increasing future dividend payments.
For instance, a company which is growing 4% per year and features a dividend payout ratio of 80% is unlikely to increase dividend payouts much more than 4%.
But a company which is growing 4% per year and features a dividend payout ratio of 20% probably has greater latitude when it comes to increasing its dividends. Such a company can increase its dividend 100% and still retain 60% of its earnings for corporate reinvestment...
So look for companies with room to grow when it comes to dividend payouts...
A well thought out dividend investing strategy goes hand-in-hand with a long-term investing strategy. So once you master the concepts of dividend investing, you're implementing a long-term investing strategy by default.
Let's learn why that's important to the long-term health of your Roth IRA...
Learn about the importance of A Long-Term Investment Strategy >>>
***z-affiliate-ad-2.shtml***
Return to the top of The Dividend Payout Ratio
Return to Trading Stocks In A Roth IRA
Return to the Your Roth IRA Website Homepage