Good Financial Cents: An Interview with Jeff Rose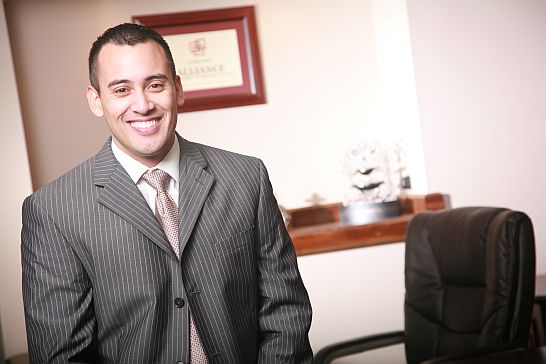 Good Financial Cents is one of the best financial blogs on the web, and we were lucky enough to land an interview with its author Jeff Rose.
If you're searching the web for credible financial information from a bona fide professional, then Jeff is your go-to guy. His in-depth posts, written in easy-to-read everyday language offer a wealth of information for those of us focused on putting our financial houses in order.
So pull up a chair and join me in welcoming Jeff Rose to Your Roth IRA...
---
1) Hi Jeff, thank you for sharing your time with us. You've got a great blog that stands apart from the rest of the online crowd. When it comes to Roth IRA information, it seems like most financial blogs state the obvious... It's good to have a Roth IRA, here are the contribution limits, these are the withdrawal rules, etc.
Unfortunately, on the Internet, information beyond the fundamentals is in short supply. But not on your blog. You offer real solutions to common problems.
You offer substance, and not just in regard to Roth IRAs, but other retirement vehicles as well.
Please tell us a little bit about yourself and Good Financial Cents.
I was born in Los Angeles, California, but primarily raised in the Midwest. I got started in the financial industry as an intern when I was a junior majoring in finance at SIU-Carbondale. The internship turned into a part-time job, then turned into me becoming a financial advisor, and the rest is history. Since then, I became a Certified Financial Planner professional and co-founded Alliance Investment Planning Group. We are an independently owned and locally operated full-service financial planning firm.
Shortly after I started my new firm, I learned the true meaning of what a blog was - since I used to think it was just MySpace or something silly like that. I started Good Financial Cents in July of 2008. Good Financial Cents has evolved into something more than I ever imagined it would or could. On my blog, I've tried to keep people updated on financial planning topics, such as the Rules on the Roth IRA, and also cover topics such as retirement planning, estate planning, and insurance. Just for fun and to keep the blog upbeat, I've also written posts on In N Out Burger, (my most favorite burger joint), an easy chicken pasta recipe, and the recipe to my my delicious health shake that I drink everyday.
2) On your blog, you mention that watching your parents struggle financially in your formative years had a major influence on your life, and eventually, your career as an investment advisor. You state, "As I got older, I realized that this was not the path I wanted to walk down."
Given the breadth of current financial crisis, it's my guess that legions of teenagers, 20-somethings, and 30-somethings have made a similar resolution. What advice would give someone who wants to avoid the financial missteps made by their parents? What first steps should they take right now?
For anyone who has seen their parents struggle financially, you can't be in denial to what your parents are. I didn't have a clear understanding of how financially unstable my parents were (especially my father) until I was probably in my early twenties. Once I did, I realized I didn't want to walk down that same path, and I took some choice steps to make a difference. Initially, I inherited some of his bad traits, racking up credit card debt until one day I awoke and realized I was falling into the same trap.
Credit cards are evil, period. I worked and clawed my way to get out of credit card debt, and it was such a relief to get there. Luckily, I didn't get into too deep of a hole, so it didn't take me long to accomplish that. You need to recognize that you have a problem before you can fix it. Don't be in denial and say to yourself, "Oh, it's just $5,000. I can pay that off in no time". If that's the case, then pay it off.
3) You served as a Staff Sergeant in the Illinois National Guard in support of Operation Iraqi Freedom. God bless you for your service. Do you have any specific financial advice for military service personnel and their families?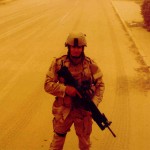 One of the best pieces of advice that I can give anybody deploying overseas is don't think that all of a sudden you're rich. What I mean by that is that I saw many soldiers receive an increase in pay from hazard duty pay, overseas pay, and BAH (cost of living), and so they started buying things they didn't need. So much in fact that I saw soldiers coming back home after deployment in a far worse financial situation than before they left.
Be smart and save your money. I gave a recount of some of this in a post I wrote, Managing Money While Deployed Overseas.
4) You have a son, and he has a little brother on the way. As a father, what three financial lessons do you most want your children to learn and live by?
1. Avoid Credit Cards - Stay away from credit cards (unless you've mastered the system, and you use it to get cash back or points)
2. Save First, Then Spend - Ask yourself if you really "need" it or just "want" it.
3. Money Isn't Everything - Be sure to give back to your church, community, or anyone that is needy when you can.
5) As a Certified Financial Planner with Alliance Investment Planning Group, you offer financial services as an independent fee-based investment advisor. As someone who spent a brief stint in the financial services industry, I always encourage friends and family members to seek out fee-based investment advisors. Unfortunately, most people don't know the difference. Can you explain why a fee-based investment advisor is preferable?
A fee-based advisor versus a commission advisor. First, let me say there are good commissioned-based advisors out there. They're not all bad. What makes a commissioned driven advisor vs. a fee based advisor is how they are compensated.
Preferably, I don't like to receive commissions. I work under an arrangement where I'm compensated based on a percentage of what I manage. For example, if the client has $100,000, I would make 1% of that money. If their account goes up, I get a raise. If their account goes down, I get a pay cut. There are no additional transaction costs or commissions in this arrangement.
Anytime I suggest that the client needs to make a switch, there is no additional cost to them. I feel that this is more in line with the client's best interests, so that I'm not making commissions anytime I make a recommendation. The clients like that because they know I'll continue to work for them to make them the best investors I can.
6) If an individual wants to use a Roth IRA to invest in the stock market, do you recommend purchasing mutual funds, index funds, individual stocks, or some combination thereof?
It really depends on the comfort level and experience of the investor. If you don't know much about individual stocks, then stay away from them. Same goes for any other investment. If you can't explain what you have to somebody else, then you have no business being in it.
7) You state that you created the Good Financial Cents and Financial Dad blogs "to be a resource for individuals - for parents, for working families, for businesses - on basic investment and financial tips that they can use to help better their lives financially." Has your experience with these blogs lived up to your expectations? How have they enriched your life?
Absolutely, it has been a lot of fun. One of the perks of being a financial planner is that I get to help people. But with my business, and me being only one person; I can only help so many people directly (face to face). The blog has allowed me to touch hundreds of thousands of people that I never would have been able to otherwise, and that's exciting. I love whenever I can give some information to someone, and it can help save their life financially.
8) On Your Roth IRA, we encourage people to use the Internet as an avenue for turning a personal passion into an extra income stream. In addition to pursuing your own passion with Good Financial Cents and Financial Dad, your wife authors the blog House of Rose, which catalogues the adventures of your growing household.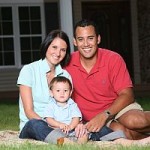 Given your family's personal experience, would you recommend the Internet as a viable option for generating extra income?
I never would have believed it, but absolutely yes. I never imagined that I could actually make money from the blog, but as it stands right now the income I've earned from my blog has already matched and will soon exceed my wife's salary. She still doesn't believe it. I don't want people to think it's easy, because it's not. My blog is a hobby, but also has become a side business, and I will continue to treat it that way. I'm excited to see where it will be a year from now.
9) Jeff, thanks so much for the interview, just one last question. As a Certified Financial Planner professional with Alliance Planning Group in Carbondale, Illinois, you offer valuable personalized ongoing financial planning and investment management services to families, retirees, soon to be retirees, and small business owners. Some of our readers might be interested in retaining your services. Are you able to work with people from other states, or only those who reside in the state of Illinois? And if someone reading this wants to become a client, what step(s) should they take?
Currently, I am licensed not only in Illinois, but in other states, primarily because I've had clients that initially started with me in Illinois, but then moved elsewhere. If somebody truly is interested in working with me in a state I'm not registered in, it's very easy to take care of that. If they're interested, they can reach me through my blog, through my contact form, or they can call me direct.
---
Many thanks to Jeff for offering his time today, and we hope you gained some valuable insight from his personal experience and expertise. Please remember to drop by Good Financial Cents and take a look around. And don't forget to check out the Financial Dad and House of Rose blogs as well.
Return to the top of Good Financial Cents: An Interview with Jeff Rose
Return to Your Roth IRA Interviews
Return to the Your Roth IRA Website Homepage