Now You're Ready To Invest!
At this point, you're ready to invest in common stocks if...
***z-affiliate-ad-1.shtml***
You've learned each of the outlined lessons...
You've studied them...
You've committed them to memory...
And you didn't skip any of them, but read each lesson in its entirety...
Does this describe you?
If not, don't let this valuable opportunity pass you by.
Take a moment to scan the articles below one last time...
Did you miss any? Anything you want to revisit?
2) The Road to Roth IRA Retirement Riches
3) Identifying Great Businesses
4) Consistent and Increasing Earnings
8) Magnifying Returns with Dividends
10) A Long-Term Investment Strategy
11) The Basic Principle of Investor Return
12) Calculating A Stock's Intrinsic Value
If you're comfortable with and feel you understand all the information offered in these links, then you're way ahead of 95% of the world's stock market investors.
Congratulations! You've learned everything you need to know in order to invest successfully in common stocks...
You're finally ready to open up your Roth IRA and invest in common stocks!
But most importantly, you're poised to achieve stellar market-beating returns that will make your retirement a lot more comfortable than it otherwise would have been...
You should be proud of yourself.
In the meantime...
Feel free to come back every once and a while and review these time-honored principles of investing success, and also make sure to check out the Your-Roth-IRA.com Blog where you can find the site's latest articles on Roth IRA accounts and stock market investing...
Also, if you're looking for investment ideas for your own Roth IRA, take a peek at my personal Stock Watch List which I'll update when applicable...
I'll also update the holdings in my Roth IRA so you can keep track of what I'm doing and see if I practice what I preach...
Anyway, congratulations again on taking the time and effort to educate yourself on sound investment principles. I know you?ll provide a solid financial foundation for yourself and your family by making excellent investment decisions now and well into the future.
But before you take that next step and open your Roth IRA, please take a couple of minutes to review one of the most important pillars of successful Roth IRA investing...
Learn more about Successful Roth IRA Investing >>>
***z-affiliate-ad-2.shtml***
Return to the top of Now You're Ready To Invest
Return to Trading Stocks In A Roth IRA
Return to the Your Roth IRA Website Homepage
---
What's New?
Read 5 Reasons Why I Love My Roth IRA, our part in the Good Financial Cents Roth IRA Movement!
Start planning ahead for next year by checking out 2017 Roth IRA contribution limits, and stay alert to this year's changes to the 2016 Roth IRA contribution limits.
Our family fully funds our Roth IRA with this website. Learn how you can do it too.
Are you confused or frustrated by the stock market? Learn how to build real wealth selecting individual stocks for your Roth IRA...
Read more about what's new on the Roth IRA blog.
---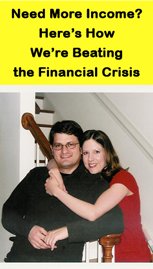 Hi, I'm Britt, and this is my wife, Jen. Welcome to our Roth IRA information website!
This is our humble attempt to turn a passion for personal finance into the Web's #1 resource for Roth IRA information. But, believe it or not, this site is more than just a hobby. It's a real business that provides a stable and steady stream of income for our family. In fact, because of this site, Jen is able to be a full-time stay-at-home mom and spend more time with our daughter, Samantha.
But you want to know the best part? ...You can do the same thing! Anyone with a hobby or a passion (even with no previous experience building a website) can create a profitable site that generates extra income.
If you're tired of solely depending on your job(s) for family income, click here now and learn why our income is increasing despite the financial crisis and how we're making our dreams come true.
---